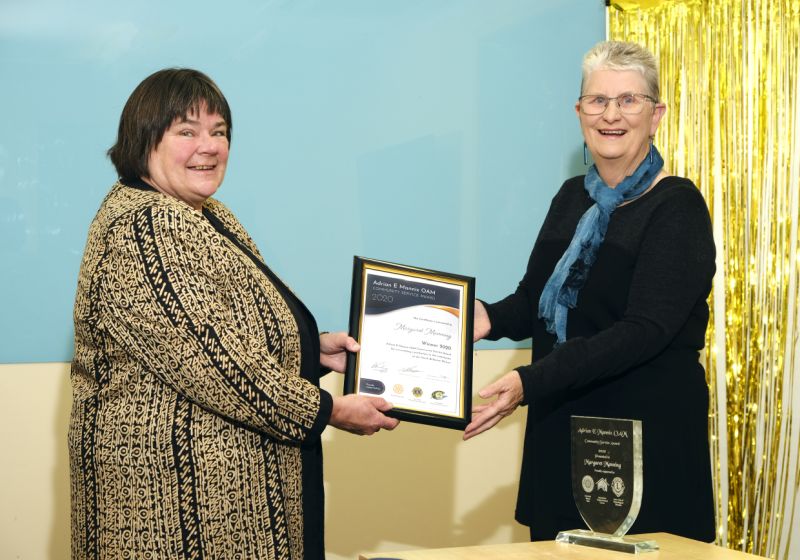 Congratulations Margaret Manning winner of the Adrian Mannix OAM Community Service Award 2020. The presentation was equally as unusual as the days we are experiencing. It was presented with members of Adrian Mannix's family, members of Portarlington / Drysdale Lions Club, Rotary Club of Drysdale, SpringDale Neighbourhood Centre and members of the community all participating via Zoom.

During the presentation Marg reminded us that she was the minister conducting Adrian's Funeral almost 20 years ago and she felt very honoured to be presented with this award. Marg is described by her nominator, Joy Porter, to be a rare person who has both vision, energy and the ability to implement an idea from scratch and to bring people along with her.


Marg is a highly respected member of the Portarlington community, having served as the minister of the Uniting Church from 1999 – 2002 and since retirement here has served on the very successful Biggest Afternoon Tea committee for a number of years Marg saw the need for a local food bank operating within the 3223 postcode and so the Portarlington Food Assistance Program (PFAP) was born.
Forging a very significant partnership with Bellarine Community Health who provided the volunteers insurance and infrastructure for the program as well as assisting the program to operate on a weekly basis from the Portarlington BCH premises. The program began in Sept 2014 and now has almost 200 clients who live in the 3223 postcode.