Adrian Mannix lived in Drysdale his whole life and during that life well lived he overcame what most people would call disabilities and he turned them into trademarks. Adrian could stop a very fast moving cricket ball with his artificial legs much to the dismay of his opposition team and later in life he would create much dismay in a hotel bar when he wore them backwards.
Adrian had a celebrated skill, the most beautiful calligraphy, people came from all over the Bellarine asking him to write on special certificates. He crafted this artistic display with only a couple of fingers.
Adrian served our community in so many ways as Scout Leader, School Councillor, Lions President and District Governor, President SpringDale Community Cottage (forerunner of SpringDale Neighbourhood Centre) Councillor and Mayor of Bellarine Rural City Council.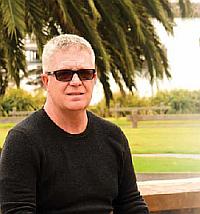 This lays the scene for an award created in Adrian's honour and in 2018 the 17th annual awardee is Glen Jose, an incredibly active member and dedicated member of a variety of groups in Portarlington.
Glen has only lived in Portarlington for 7 years but during that time he has thrown himself into community service with Portarlington CFA, Portarlington Food Assistance, Bellarine Community Safety and Portarlington Drysdale Lions. Congratulations Glen and congratulations to these groups who benefit greatly from Glen's dedication.
Glen is donating the funds awarded by the Rotary Club of Drysdale and Portarlington Drysdale Lions Club to the Portarlington CFA. Our community thanks and salutes you, Glen, and wishes you well as you continue your community service endeavours and as you inspire others to service.
SpringDale Neighbourhood Centre is pleased to be part of this celebration and an honour board for this award hangs in the SpringDale foyer. Our community is the winner because of people like Glen.